Published 12-28-22
Alabama State softball coach alleged gender discrimination after her suspension -- $800,000 verdict in Montgomery
Alabama State suspended its softball coach (Telma Hall) in March of 2014 after two parents complained the players were being mistreated in terms of gear, meals, and access to the cafeteria. One parented threatened to sue. ASU immediately suspended Coach Hall and banned her from campus. She was fired a month later.
Coach Hall sued and alleged her suspension represented gender discrimination. Why? Male coaches faced much worse allegations (drugs, violence, sexual misconduct) and were not suspended summarily. Alabama State denied everything.
A federal jury found for Coach Hall and awarded her $800,000 for her emotional pain and mental anguish associated with the suspension. She had alleged other claims including retaliation and pay differential, but those were resolved against her by summary judgment.
Candis McGow and Lacey Danley, Wiggins Childs, Birmingham for Hall
Kenneth Thomas, Ramadanah Salaam-Jones and Joi C. Scott (in-house) for Alabama State
Jerusha Adams called the balls and strikes in Birmingham
The Jury Verdict: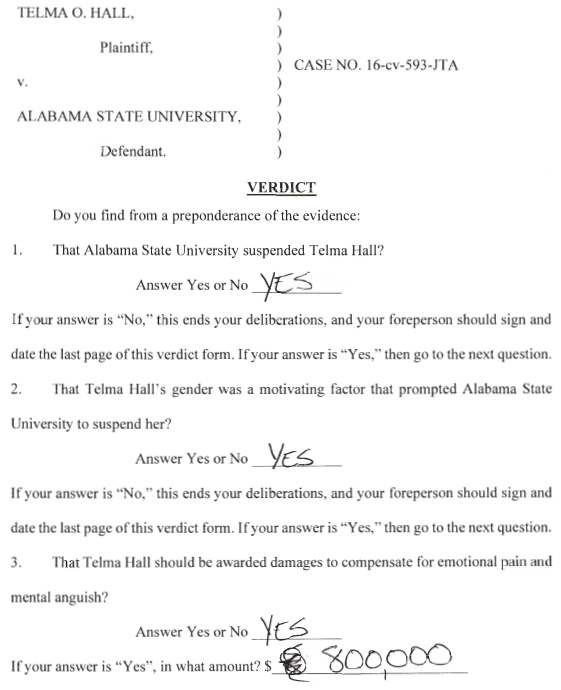 Coach Hall and the Hornets (from 2013) pictured below: